Rhia Gowen, Transformational Life Coach, Movement Educator and Choreographer

Rhia Gowen has expressed an avid interest in the arts, cultural anthropology, and languages from a young age. She studied dance, theater, and art from age 6. Graduating early from high school, she spent a year in Denmark studying dance, fine arts and psychology. She received her Bachelor of Arts degree in Dance and Languages from Friends World College in Kyoto, Japan and continued to live there for 23 years.
While in Kyoto she co-founded United Multimedia Dance Theater Productions, creating multi-media dance theatre performances based on universal themes using multicultural myths and archetypes. Rhia developed an innovative style of teaching dance classes for which she was featured in newspapers, magazines and on TV. She taught dance and debuted new choreographic works on a weekly television program on Kansai TV.
For 8 years Rhia studied Butoh (Japanese avant-garde dance), as well as Jiuta-mai (Japanese classical dance), receiving the Natori (Master) title. She studied Gidayu singing with National Living Treasure Toyotake Danshi.  Rhia lived in Bali for 18 summers, mastering the dance and language and then teaching Balinese dance in Japan. She led tours to Bali, teaching about  arts and culture there.
Rhia developed a new educational approach using the arts while teaching English as a Second Language for 10 years. She was a Japanese language interpreter for Byakkosha, a Japanese dance company working with director Robert Wilson on a performance for the LA Olympics Fringe Festival,  and at the International Asian Dance Festival. She interpreted on the set of the movie Black Rain, and for Aikido master Motomichi Anno. Rhia translated a book on cultural anthropology by noted professor Toshio Yoneyama. She speaks Japanese fluently, is conversational in Indonesian, and familiar with Danish and French.
Her growing interest in the healing arts and transpersonal psychology led Rhia to complete training in Ericksonian hypnotherapy and NLP, as well as studying at the Institute of Transpersonal Psychology. She created the Dancing Spirit philosophy, teaching expressive dance as a pathway to the creative and healing powers within. She became coordinator of the Kyoto Birth Network, providing alternative resources for pregnant women and teaching movement, relaxation and preparation for a positive birth experience.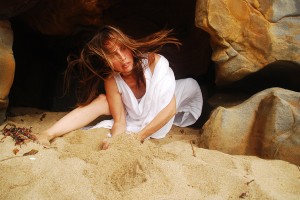 Rhia came to the Bay area to further explore expressive art therapy, alternative education and the intentional community movement. She completed training at the Person Centered Expressive Therapy Institute, which uses painting, voice, movement, clay sculpture, and drama to access the creativity, healing power and intuitive guidance we all have within us.
Rhia is now based in Santa Cruz, CA where she offers her services as a Life Coach, dance and expressive movement teacher, and performing artist. She is available for coaching, performances, and workshops in a variety of movement styles, expressive arts, and Asian dance and culture. She sometimes leads groups on retreat to Bali and Japan to learn about the arts and culture, and for personal renewal through expressive art and movement.